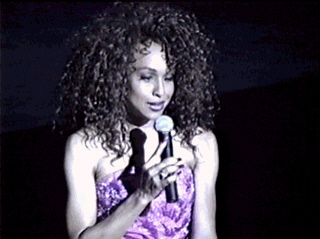 From the moment she enters the stage, you know that Loretta Holloway means business. There is nothing typical about this petite powerhouse of a singer.
With a vivacious stage presence that complements her velvety smooth, albeit powerfully charged voice, Loretta is a singer's singer as well as a consummate performer.
Anyone who has ever heard Loretta sing, agrees that she has that special something. Reviewers from coast-to-coast are quick to point out that she has an energy, a captivating charm and excitement that instantly draws you into her performance. Gregg Hunter of Drama-Logue proclaims her a "One woman spectacular" and Michael Paskevich of the Las Vegas Review-Journal writes that "Holloway is the quintessential cabaret chanteuse."
Born and raised in Belton, South Carolina, Loretta had planned a career far removed from singing --- that of an English teacher. Majoring in English at Claflin College, Loretta found her naturally gifted voice would be a means by which she could finance her schooling. She performed, at night, in small jazz clubs to help pay her tuition and was genuinely surprised by the overwhelming response.
Finding herself more at home on stage than in the classroom, Loretta found herself headed for the bright lights of Chicago. She landed a job singing in the Back Room, a night spot in the Windy City's famed Rush street. It didn't take long for music lovers to realize that someone and, something, special in their midst. Buck Walmsley, Chicago's leading jazz critic, called Loretta "The best jazz singer in the city." Variety referred to her as "The little lady with the big voice ." With such impressive reviews in hand, Holloway headed for the West Coast.
Her move to Los Angeles proved to be a wise choice for a number of reasons. Not only did she find steady work, but within a short time after her arrival, Loretta was hired to sing the theme song for the movie, "Blackjack." It was while making this movie that she got her first glimpse of one of the most exciting cities in the world, Las Vegas.
Since then, Loretta has shared the stages and marquees of the world with Bill Cosby, Whoopi Goldberg, Garry Shandling, Don Rickles, and Jay Leno among others. Even the folks "down under" embraced the regal singer in her royal command performance for Queen Elizabeth and Prince Philip.
Holloway is no stranger to the theatrical stage, having starred off-Broadway in "Mama I Want To Sing II." Her movie credits include "Pure Country," "Elvis and Me," and "Indecent Proposal," to name a few. You might see her from time to time in a Miller Genuine Draft commercial.
In the last 12 months, Loretta has added some new credits to her resume. She has become active with Variety Club, making two trips to Iowa to perform for the charity. She has gotten involved with AFAN and Golden Rainbow, Las Vegas' two major AIDS fund raising groups.
Loretta's debut CD, aptly named, Loretta Holloway...Quietly, was released in April. It is a compilation of 17 songs, including "More Than You Know," "I'm A Fool To Want You," "Guess Who I Saw Today," and the Peter Allen and Michael Callan AIDS anthem, "Love Don't Need A Reason."